Arunachal Pradesh
Named as the 'Land of the Dawn-lit-Mountains' and one of the Seven Sisters of the Eastern states of India, Arunachal Pradesh is the farthest state of India and the first Indian soil to kiss the warmth of the rising sun. Nestled on the tip of the northeast border of India with its borders touching China, Bhutan, and Myanmar, this meadow of greenery is endowed with dazzling assortment of flora and fauna, which includes more than 500 rare species of Orchids in its dense jungles, and breathtaking landscape that never seizes to make the visitors spell bound and lure them to visit this magical land again and again.
The spectacular beauty of Arunachal Pradesh is made up of not only eye soothing flora and fauna, but its fog covered hills, sparkling waters, gurgling waterfalls, and the crisp wind that surrounds the place all add up to its allure. The state of Arunachal Pradesh has been mentioned in various mythological and Hindu scriptures such as the literature of KalikaPurana and the Mahabharata. According to mythological legends, Sage Parshuram washed away his sin in Arunachal Pradesh, sage Vyas meditated, King Bhishmaka founded his kingdom, and Lord Krishna married his consort. Rukmini. Ruled by many different dynasties and kingdom, Arunachal Pradesh India is a beautiful land with numerous historical legacies and archaeological remains, vibrant culture, delectable cuisines, and colorful festivals, which bear a testament to its rich cultural legacy.
Itanagar is the capital city of Arunachal Pradesh, and it is he 14th largest state of India area-wise.
Population
Arunachal Pradesh is the least populated state of India with a population of 15.5 lakhs (1.55 million) currently. Arunachal Pradesh is covered with forests by one-third of habitat area within the Himalayan biodiversity and covering a total area of 83, 743 sq. km and ranks 14h largest in India.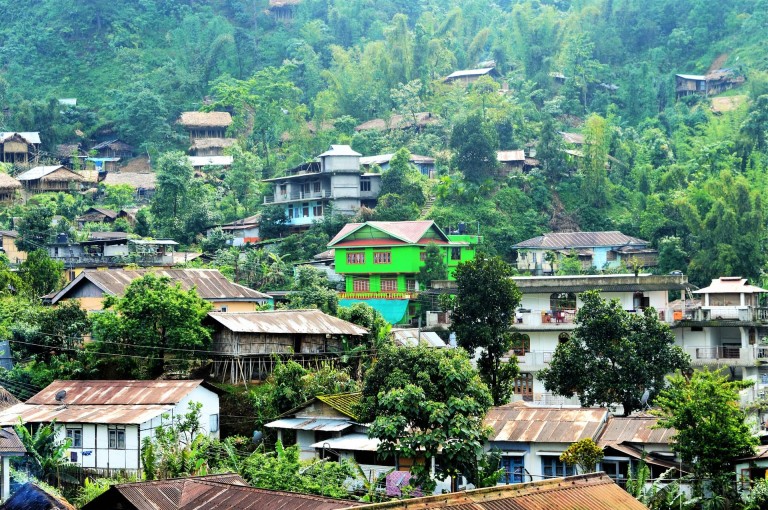 People
Arunachal Pradesh is home varied ethnic groups of people, most of which are associated with the Tibet and western Myanmar with over two-thirds of the state's population designated as Scheduled Tribes. The western Arunachal Pradesh is inhabited by Nissi, Sherdukpen, Aka, Monpa, ApaTani, and Hill Miri as the main tribes while the Adi, who comprise the largest tribal group of the state, live in the central region. The northeastern hills are inhabited by the Mishmi and the Wancho, Nocte, and Tangsa are concentrated in the southeastern district of Tirap.
Apart from the tribes, the population in Arunachal Pradesh also consists of immigrants from Bangladesh, as well as Assam, Nagaland, and other states of India. The people here usually share a similar kind of lifestyle and engage in occupation such as farming, hunting, fishing, and gathering forest products to cater to their daily needs and supplement their diet.
Arunachal Pradesh Language
Major population in Arunachal Pradesh consists of Schedule Tribes who speak about 50 different languages and dialects, most belonging to the Tibeto-Burman branch of the Sino-Tibetan language family. Some of the languages and dialects spoken here are Nyishi, Adi, Dafla, Gallong, Tangsa, Khamti, Hill Miri, and Tagin. Most of these languages and dialects are incomprehensible and thus, Assamese, Hindi, and English are used as mediator languages by people to communicate to different communities in the state or with the tourists. Nagamese language is widely used a link language in some areas.
Places to Visit
Being the 'Land of Dawn-Lit Mountains', Arunachal Pradesh is a breathtaking landscape of lush green fields, guzzling waters, and smokey snow-clad mountains. Apart from its beautiful landscape, here are some of the best places to visit in Arunachal Pradesh:
Tawang – At a height of 3048m, Tawang is a historical monastery and is known for being the birthplace of the 6th Dalai Lama, TsangyangGyatso.
Ziro – The land of festival celebrations with a balmy climate, Ziro is a quaint and spectacular village town and a peace seeker's paradise known for its pine hills and rice fields.
Namdapha National Park – The third largest national park of the country area-wise with several species of endangered animals and birds and high-altitude spots overlooking the landscape.
Bhalukpong – Aside from being a natural paradise, Bhalukpong offers several wildlife and adventure sport experiences complimenting its natural beauty.
Tirap – Wish gushing rivulets, stunning Orchids, and the crisp and fresh air, Tirap heals the soul with its authenticity, welcoming tribals, festivals, and the flawless artwork worth admiring.
Madhuri Lake – A scintillating and pristine lake, also known as Sangetsar Lake, is one of the remotest lakes of the country with beautiful panoramic views and a pleasant weather.
Nuranang Falls – Mostly unknown and virgin place, Nuranag Falls fall from a height of 100 meters with a white sheet of water and offers a pristine and beautiful experience.
Itanagar – Being the capital of the state, immerse in the historical heritage and the modern lifestyle of Arunachal Pradesh with a touch of spirituality, culture, scenic views, and pleasant weather.
Culture
Tribes and Beliefs- The cultural heritage of Arunachal Pradesh is immensely varied in the sense that the state has 26 major tribes which includes the sub-tribes as well. Every tribe is different in their own ways, lifestyle, customs, and traditions which make up the vibrant and joyous culture of Arunachal Pradesh. The major tribes of Arunachal Pradesh are Adi, Aka, Galo, Apatani, Nyishi, Tagins, Bori, and Bokar, etc. who follow the Donyi-Polo religion with the Sun and Moon as their presiding deities. Tibetan influenced Monpa and Sherdukpen tribe are nestled in the West Kameng and Tawang district and the Khampti and Singpho tribes are settled in the Lohit district. These four major tribes follow Mahayana and Hinayana sects of Buddhism, while the rest of the tribes follow the ancient customs of animal worship.
Festivals in Arunachal Pradesh- The state's cultural lifestyle is dominated by vibrant and colorful festivals most of which are celebrated as a mark of thanksgiving to the Almighty for offering them a good harvest.
Food
Being home to several tribes and groups of people, food in Arunachal Pradesh is one of the major focuses of Indian tourism and the variety of cuisines differ from tribe to tribe. The commonality in the food here is that people don't prefer fried or very spicy food with heavy gravy like other parts of the country, but rather boiled or smoked food stirred with fresh herbs is preferred.
Rice is one of the staple foods in Arunachal Pradesh which is eaten steamed with different kinds of stews. Apart from that some of the popular and common food items here are:
Bamboo shoot
Pika Pila (a type of pickle)
Pehak (chutney made with fermented soya beans and chili)
ChuraSabji (curry made with fermented cheese from Yak or cow milk and some vegies tossed in flakes)
MoMo, buffalo meat, etc.
Arunachal Pradesh Tourism
The beautiful and lush green land of Arunachal Pradesh is a spellbinding phenomenon for everyone who visits the state and the awe-inspiring landscape, and its blissful culture invite people from across the globe to experience its heritage and the dazzling beauty. some of the best things you can do and enjoy here are:
Angling – The sparkling waters of the state offer several opportunities for the angling and fishing lovers and the simple sport have helped the state to grow as well. Throughout the globe, catching a Golden Mahseer is touted as an accomplishment by anglers as it is very tough to catch and is not found everywhere, which can be done in Arunachal Pradesh.
Trekking– Trekking is one of the major adventure sports here especially from May to October when the weather is pleasant. Many trekking routes offer Mahseer angling opportunities as well as spots from where a spectacular view of the sprawled landscape can be viewed.
Rafting – The state is much sought after for its rafting and other adventure activities that are organized in its upper reaches. The rafting enthusiasts much explore the thrilling waters of the Siang River and indulge in the rafting adventures.
Wildlife – The wildlife paramours will have a memorable experience in witnessing the big four namely tiger, leopard, clouded leopard, and snow leopard as well as other rare and endangered species. A full day is required to visit the wildlife parks and sanctuaries in Arunachal Pradesh containing some of the world's rarest and beautiful animals and fauna.
Heritage – Arunachal Pradesh has many places that narrate its history and cultural heritage. Places such as Tawang Monastery, Malinithan, Bhismaknagar, ParasuramKund, and World War II Cemetery are some of the places of cultural heritage that must not miss.
Spiritual Places – Not just adventure sports and historical places, Arunachal Pradesh has several spiritual places where one can get a closer look at the customs and beliefs of the state. Spots such as Golden Pagoda, Tawang Monastery, Urgyelling Monastery, empong Monastery, chumiGyatse Waterfall, Akashiganga, and Shivalinga at Kardo Hills are some of the best spiritual places here.
Temples
Arunachal Pradesh has some of the famous temples which attract several devotees especially Hindu and Buddhist devotees from across the globe. Some o the major temples and monasteries here are:
Tawang Monastery – Built in 1680-1681 and the birthplace of the 6th Dalai Lama, Tawang Monastery is one of the major monasteries here and is a three storey building housing scriptures and a huge statue of Lord Buddha.
GRL Gompa Monastery – Home to monks and Buddhist Lamas, this monastery is significant for the Lamaistic faith and comprises a prayer hall, a school for children of monks, and Buddha temple.
Gorsam Chorten – This site is a stupa located in Gorsamand was constructed in the early eighteenth century by Lama Pradhar, a Monpa monk.
Taktsang Gompa – Said to be the place where Guru Padmasambhava meditated who was the missionary who spread Buddhism in Tibet and is believed to be an incarnation of Gautam Buddha.
ParasuramKund Temple – Located in Lohit district, a temple site where Lord Parasuram washed away his sins and Lord Krishna married Rukmini here.
Akashganga or Malinithan Temple – Dedicated to Goddess Durga exhibiting Odisha style architecture, this is one of the Shakti Peetha where one of the pieces of Goddess Sati fell after she burst into flames.
How to Reach
By Air: As there are no airports in Arunachal Pradesh, the nearest airports are in Assam. The Lilabari Airport in North Lakhimpur in Assam in the closest to Arunachal Pradesh which receives flights four days a week, mostly from Guwahati and Kolkata. From the airport, cabs and buses are available to Itanagar. The Guwahati LokapriyaGopinathBordoloi International Airport receives flight from all major cities of India which is 315km from Itanagar.
By Train: Arunachal Pradesh does not have a railway station but the nearest one is Harmuti railway station in Assam which receives trains from almost all major cities of the Northeastern and Northern states.
By Road: The state is easily accessible by road with sufficient inter bus services. The NH15, 52, and 415 connects the state with the nearby states. One can also take their private vehicle and the roads are well-maintained.
Arunachal Pradesh
Bask in the majesty of the natural spectacle of Arunachal Pradesh where the dawn-lit mountains greet the chirping birds, the sound of the cascading waterfalls and gurgling rivers plays a symphony, and the fresh air interacts with the scent of herbs and wildflowersthat offers a soulful reprieve from the monotony of frantic life.